ASC 2023 Headquarters Hotel – SOLD OUT (as of January 16th, 2023)
The Hilton Americas-Houston is now sold out.  ASC does not have additional group blocks at other hotels so please search on Google Maps as there are hotels close to the Hilton or search on a travel site such as (Expedia, etc.).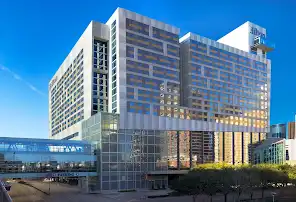 Hilton Americas-Houston (2023 ASC Headquarters Hotel) – SOLD OUT
At the heart of downtown Houston, our hotel is connected to the George R. Brown Convention Center via skywalk. We're adjacent to both Discovery Green Park and Toyota Center — home of the NBA's Houston Rockets. Within a mile, discover Minute Maid Park and PNC Stadium (formerly BBVA Stadium) events. Perks include a FedEx store, our infinity pool, and fitness center.
2023 ASC Discounted Group Rates and Reservation Cut Off Date 
The Hilton Americas-Houston has provided the following discounted group rates for registrants attending the ASC 2023. The discounted group rates apply until the reservation deadline of January 17, 2023, or until all rooms in the group block have been reserved, whichever occurs first. After January 17, 2023, guest rooms and discounted group rates may not be available. We encourage you to confirm your reservations early. The 2023 ASC group rates are noted below.
To make your hotel reservations please "click" on this link https://book.passkey.com/go/ASC23 and select "Make a Reservation" tab to the right or contact the Hilton Houston directly at 1-713-739-8000 and mention you are attending the Academic Surgical Congress or ASC 2023.  You will be able to book 3 days pre and post the conference dates at the group rate, based on availability.
Your hotel reservation requires a first night's credit card deposit which will be charged to your card. If you wish to cancel, please do so 3 days prior to arrival to avoid cancellation penalties. Check in time is 4:00pm and check out time is 11:00am.
Guest Room Group:
Standard Queen or King: $265.00 (single or double occupancy)
Triple Occupancy: $265.00 or Quadruple Occupancy: $315.00
Hotel Reservation Scam
We would like to make you aware of a situation that has been affecting conferences nationwide.   There are companies (Convention Housing Services, Global Housing, Global Travel, etc.) who claim to be the official housing bureau and ask to "assist" you with hotel reservations.  They may disguise themselves as part of the ASC or may claim to represent the conference hotel.   They may note they can get better rates, the room block is filled, or uses other sales pitch methods.   They are NOT the official housing bureau nor affiliated with ASC.
If you receive a call from any company claiming to represent the ASC or Hilton Hotel, be aware that this is probably a scam and do not make the reservation or provide your credit card information.
If you are contacted by any such company, please ask for the company name, phone number, address, and contact who called (email if possible) and to send it to [email protected]
If you have any questions or need any assistance, please contact:
Michelle Freeland, Senior Meeting Planner; Phone: 310-986-6444 x158
Email: [email protected]